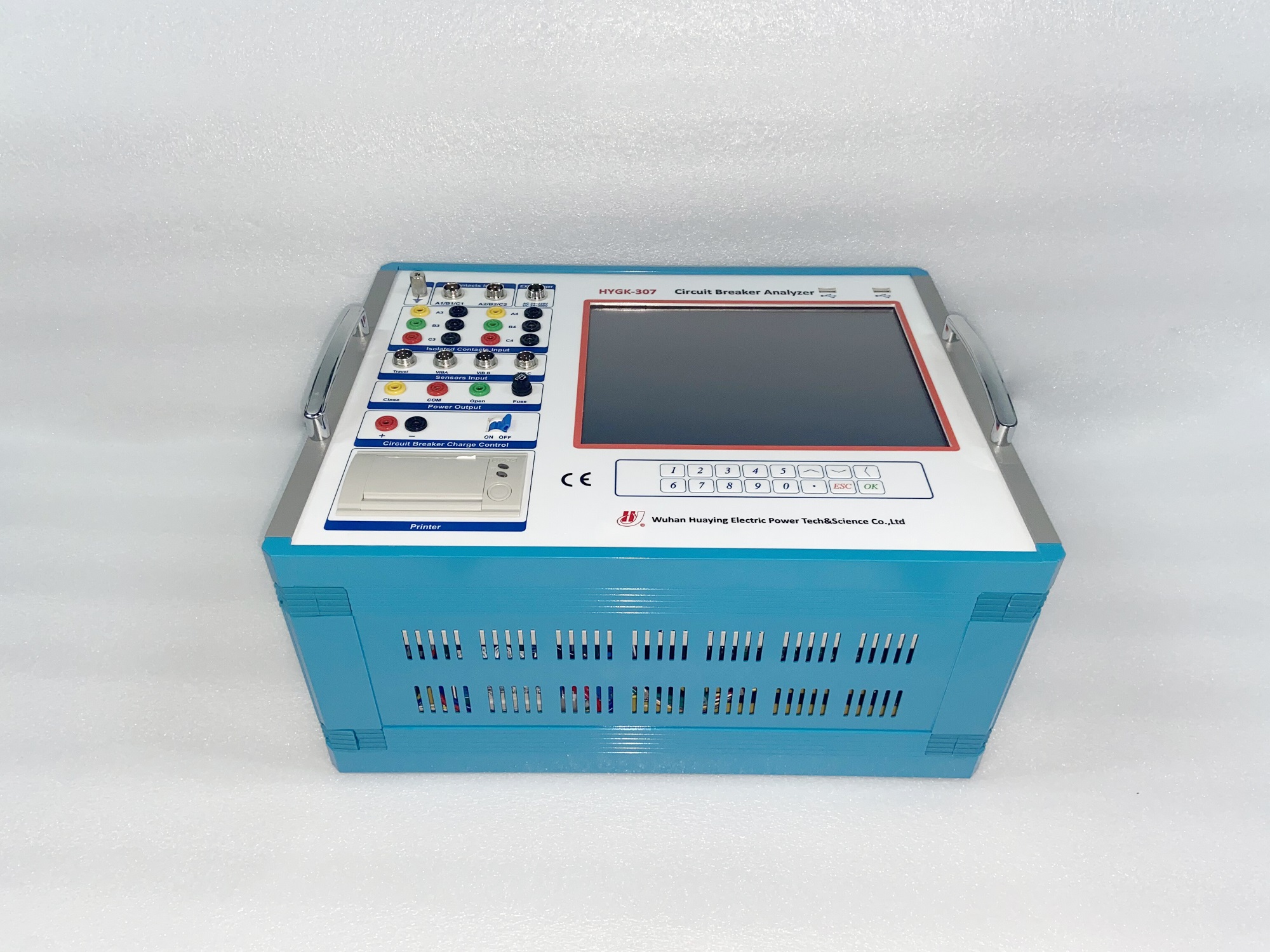 Circuit Breaker Analyzer HYGK-307
Circuit Breaker Analyzer HYGK-307 is used for testing, analyzing and assessing power system circuit breakers, mechanical characteristics of load switches and isolated switches and other AC high voltage switches, contact resistance, arcing contacts and vibration characteristics etc. The functions of Circuit Breaker Analyzer cover all testing items of high voltage circuit breaks. Comparing with the traditional circuit breaker tester, this analyzer has unique advantages.

Contact Us
Features
★ Compared to traditional time measurement and speed measurement, the vibration fingerprint detection is easier and more efficient.

★ The vibration fingerprint test results contain richer information of circuit breaker operation, for potential risk of failure or faulty breakers, it can locate the fault position quickly.

★ The vibration tests do not need to change the original line connection, so the users can complete the charged detection of mechanical characteristics of circuit breaker.

★ Arcing contact analysis module allows users to automatically assess the degree of loss of inside Arc suppression contact of circuit breaker without disassembly.

★ Users can use circuit breaker analyzer to complete the contact resistance tests, so there is no need to buy contact resistance tester separately.



Technical Specification
12 channels for time measurement (3-channel supports both the time contact and resistance contact time, 6-channel isolated contacts for cascaded unit measurement of pole)




Range

Error

Resolution

Time measurement

4000ms

< 0.1ms

0.01ms

Travel measurement according to sensor

Linear resistance sensor

0~250mm

<0.5mm

0.01mm




0~25mm

<0.05mm

0.01mm

Angle resistance sensor

0~360°

<0.5°

0.01°

Pre-insertion resistance measurement




50~5000ohm

<1%RDG+2D

/

Dynamic resistance measurement




Test current: 25~100A

< 1%RDG+2D

/

Contact resistance measurement




0--10mohm

<0.5%RDG+0.05%FS

/




0-2mohm

<0.5%RDG+2D

/

Speed measurement

250mm linear resistance

0~20m/s

<0.5%RDG+2D

/

25mm linear resistance

0~20m/s

<0.5%RDG+2D

/

Angle sensor

0~20m/s

<0.5%RDG+2D

/

Acceleration sensor

0~20m/s

<5%RDG+2D

/

Coil current measurement

0~20A

<0.01A

0.001A

Vibration measurement

0~5000G

<3%

/
Internal DC power source: voltage: 24~265V; current:0~20A
Built-in 8G storage memory and 2 USB interface for data export and external keyboard or mouse connection
Power supply: AC220V±10%; 50Hz±10%
Working environment: temperature: -10~50℃; Humidity: <80%
Dimension and weight: dimension: 448×260×150mm; weight: 15kg
Service commitment
Pre-sale service commitments

Sale service commitments

Sale service commitments